Journee d'information sur les Living Labs dans la Mission Sols d'Horizon Europe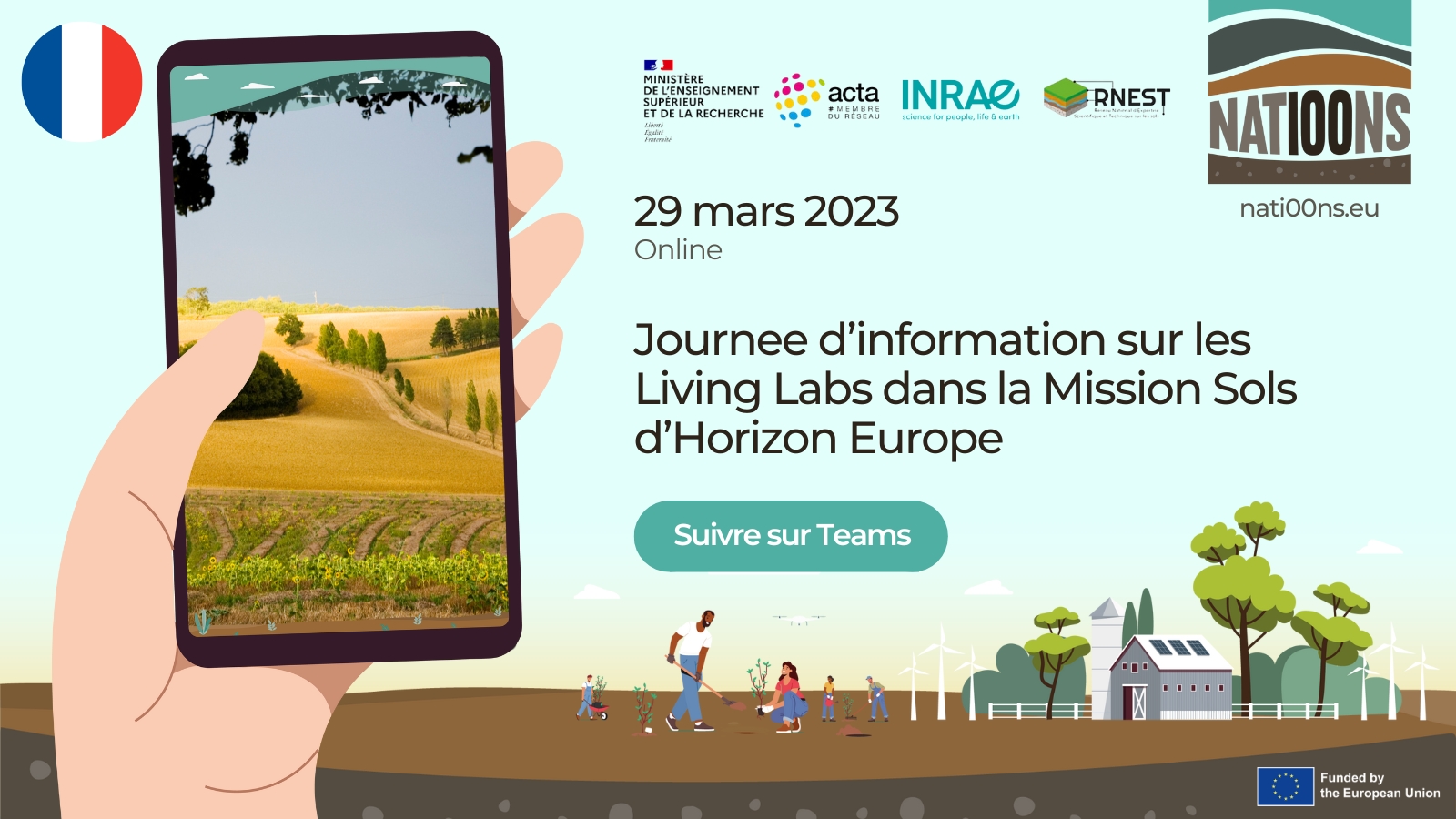 Other event
The national events organized by the Horizon Europe NATI00NS project aim to promote the EU Mission "A Soil Deal for Europe" in national and regional contexts, providing access to quality materials and information, stimulating discussions on the best configurations of Living Labs (LL ) to address specific soil needs in various local contexts, facilitating matchmaking for interregional LL clusters.
The NATI00NS project in collaboration with the Ministry of Higher Education and Research, the National Research Institute for Agriculture, Food and the Environment (INRAE) and the Agricultural Technical Coordination Association (ACTA) who is also in charge of the National Network of Scientific and Technical Expertise on Soils, are organizing this webinar on the Living Labs of the Sol Mission, which will take place on March 29 from 11:00 a.m. to 1:00 p.m. .
The objective of this event is to present the ground mission and its objectives in connection with the establishment of Living Labs. On this occasion, the concept of Living Labs at regional and European level will be discussed, as well as the funding criteria under the Horizon Europe program. The event is aimed, among others, at people from research, agriculture and forestry, agri-food, urban development and land-use planning, scientific communication, companies, associations professional consumers, as well as public administrations.
PREPSOIL at the event
Flavien Poinçot (ACTA and partner of PREPSOIL) presented PREPSOIL to the audience.
---
Official webpage: https://nati00ns.eu/events/journee-information-living-labs-mission-sols-horizon-europe
---