PREPSOIL lands in Australia on the podcast Secrets of the Soil
6, February, 2023
·
3 min read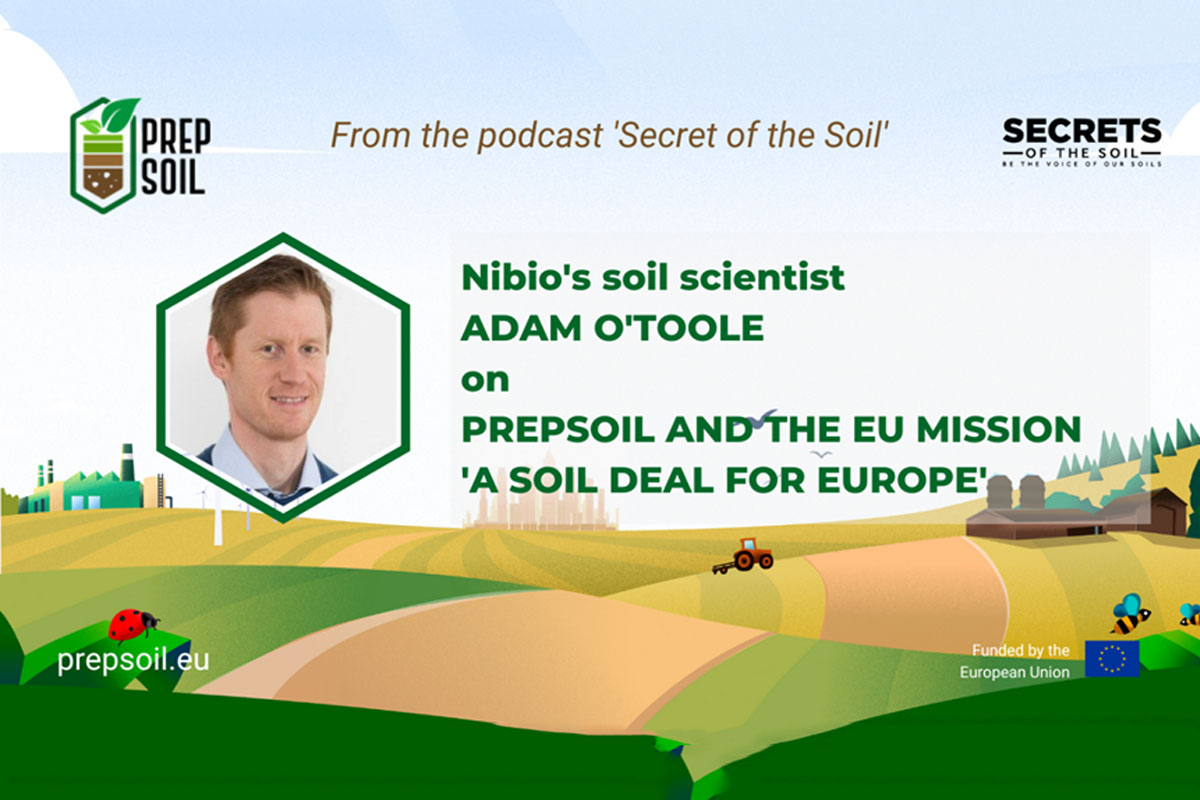 Australia and Europe: Two continents, same soil challenges
«In the 1960's, Americans decided it was time to go to the Moon and they set up a mission to do it. Today, Europeans are looking at the Earth and are putting research and development funds into five missions. One of them is about saving soil». Adam O'Toole is a soil scientist and communicator working for the Norwegian Institute of Bioeconomy. He is very committed to contributing to enhance and protect soil health. He did his Ph.D. research on the Agronomic and Environmental Effects of Biochar under Norwegian conditions.
Adam is currently working on the project PREPSOIL. It is part of a wider initiative called the European Union Mission "A Soil Deal for Europe" which aims to establish 100 living labs where farmers, researchers, and innovators devise, test, and demonstrate methods that can lead to healthier soils in Europe. On 17 January 2023, Adam has been hosted on Secrets of the Soil, a 50-minute podcast dedicated to Australian environment lovers.
«My parents were farmers from Western Victoria», Adam reveals to Regen Ray, the Australian host of the podcast. «You soil lovers from Australia know very well what is going on there: soil degradation, too much tilling, salinisation, erosion. A lot of your listeners know that story. Lot of us have been blind about traditional agricultural practices which have damaged both Europe and Australia».
Mission 'A Soil Deal for Europe': The paradigm shift of the Living Labs
According to European surveys and research, up to 70% of European soils are considered in an unhealthy state. Unhealthy soil limits the movement of animals and growth of plant roots. Much of the water on unhealthy soil is not absorbed. Instead, it runs across the soil surface, carrying away loose soil with it (in a process known as erosion). Thirsty plant roots and soil organisms beneath the surface miss out on much-needed water when erosion occurs.
«It is unhealthy – Adam clarifies – if it ticks one of the boxes, for example: soils that are losing carbon continuously, soils that have been eroded unstoppably, soils which are polluted, soils that are leaking fertiliser nutrients into waterways, creeks, water bodies, oceans».
«Now the Europeans have put funding into five missions which are quite interconnected», Adam explains to the mostly Australian audience of the podcast. «After all the decades of research done on soil erosion, soil carbon, soil fertility and all these millions of scientific papers that have been published, they still got 60% to 70% of unhealthy soil. So, what they are planning to do in the next decade is actually a paradigm-shift in the way they carry out agricultural research. They will develop 100 living labs and lighthouses».
Living Labs and Lighthouses are a core element of the mission to accelerate the creation and uptake of solutions to meet the mission's objectives across different settings, as well as different geographical, and socio-economic contexts. Living Labs are the place where existing and new knowledge are further transformed into innovation with real impact and a high potential for rapid uptake across Europe, while Lighthouses support the demonstration of exemplary solutions and exemplary achievements.
Lighthouse: place-based community-centred approach driving solution uptake
«In the region where I live, Trøndelag, in the middle of Norway, there is a potential lighthouse candidate, called Mære agricultural school. It is located on top of a hill, just like a lighthouse overlooking flat landscape. This is a nice example of a lighthouse because that school is currently educating the next generation of farmers. Kids learn how to be a farmer and in addition the Norwegian government provides grants to turn the school into a sort of national centre for environmentally friendly farming».
The key challenge of the EU Mission on soil is also the main point Adam stresses throughout the interview: filling the gap between the research done and the progress made in terms uptake.
«Being a lighthouse – Adam says – is not about being a beacon for all farmers, because conditions change in different settings, types of soil and climate».
There is an urgent need to stimulate co-design and co-creation processes involving farmers and land managers in the creation of knowledge. This kind of approach can unlock untapped potential and the accelerate the adoption of sustainable practices at local level.
«It's not about delivering a one-size-fits-all approach, but adopting the most suitable practices for specific place-based contexts».
The deployment of the Mission "A Soil Deal for Europe" across Europe will accelerate the adoption of place-based sustainable practices by helping reduce soil degradation while increasing soil awareness and soil literacy. The project PREPSOIL has been designed to facilitate this process, improve the knowledge base and access to critical information for land managers on soil health, and increase soil literacy and awareness. How? Find it out!
Listen to the entire episode
---