PREPSOIL on the ground at the EU Mission Soil Week in Madrid
6, November, 2023
·
2 min read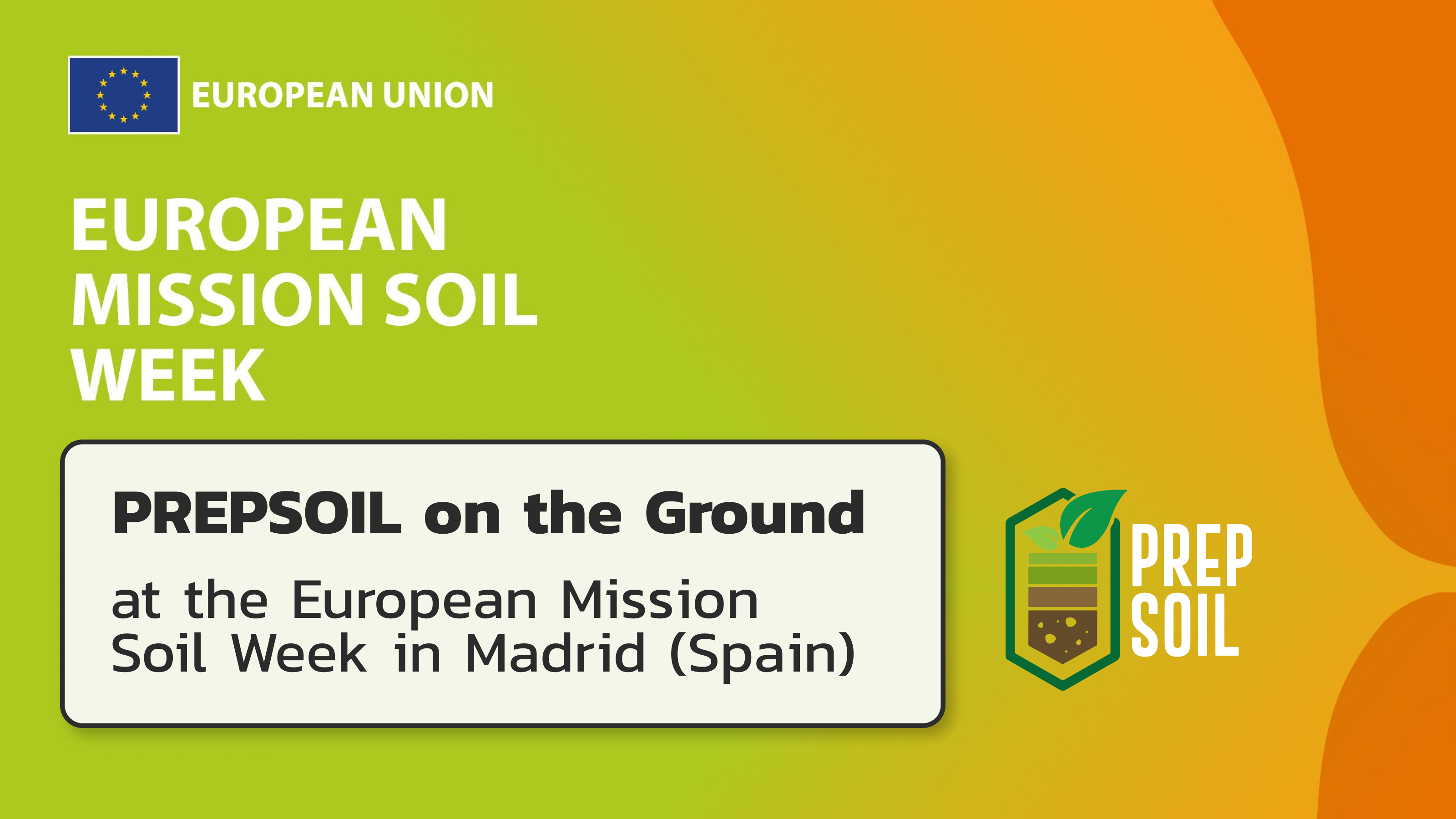 The first ever European Mission Soil Week will take place in Madrid from 21st to the 23rd of November, organised by the European Commission, Directorate-General for Agriculture and Rural Development (DG AGRI) in support of the EU Mission "A Soil Deal for Europe", together with the EU-funded PREPSOIL Project and the Joint Research Centre - EU Soil Observatory (EUSO).
The event will gather some of Europe's leading soil researchers and stakeholders and will provide a timely occasion for PREPSOIL to present work carried out to date in support of Mission Soil, such as its assessment of soil needs which it has carried out on Agriculture​, Forestry​, Natural​, Urban​, Industry​and Mixed​ land uses in twenty regions in Europe and the resulting needs and drivers of change across land use types throughout the representative European regions.
Leading the transition towards healthy soils
As the theme of the first edition of what is destined to become a yearly event reveals - "Leading the transition towards healthy soils - proceedings will focus on the importance of soil protection, restoration and monitoring, and discuss solutions towards more sustainable land management.
The aim is to create a yearly agenda for the European soil community, such as researchers, policymakers, farmers, foresters, spatial planners, landowners and land managers, businesses, organisations and the general public to discuss the challenges involved in promoting and maintaining European soil health and to communicate and disseminate solutions based on the latest research results and innovations for healthy soils.
PREPSOIL at the event
As well as its' role in co-organisation of the event, PREPSOIL will be involved in a number of other activities pertinent to the work programme.
On Wednesday November 22 at 10 am a plenary session "Supporting Mission Soil" PREPSOIL will present work carried out in support and in particular activities for the identification of soil needs using a regional methodology involving 20 European regions throughout Europe.
As part of these activities, PREPSOIL has facilitated a series of Regional Soil Needs workshops throughout Europe during the first half of 2023 and the session will also provide the occasion to learn more on the results obtained.
At 11.30 the plenary will divide into breakout sessions around the soil needs in the PREPSOIL regions.
In addition, 20 informative posters on the regions will be present to peruse for the duration of the event.
Join us in Madrid from anywhere in the world
Although parts of the conference will only be available for the ticket holders present in Madrid, all plenary events will be livestreamed for free and a list of the sessions that will be live streamed is available here, while the breakout sessions will only be available to the on-site participants.
The full programme for all three days of the conference is available on the European Mission Soil Week's website here.
Don't want to miss any of it? Register here!
---